The Warnicks
Old Family Photos


These pictures are in no particular order. The description is above each picture. By clicking on each individual picture, you can get a larger and better view.
wfp00001- 8th Street in Oakland. Bessie, Wilma, Pop Warnick(Luther Sherman), Cleo Kelly, Deloris, Mom Warnick(Enid), Clara Lou Kelly, Lillian, Luther Warnick. Late 1940s.
wfp00002- Grandma Enid Warnick and unknown- 8th Street Oakland
wfp00003- Grandma Enid Warnick, Wonebia (sp Juanita) Warnick Tichinel, and Great Grandma Paugh (Enids mother)
wfp00004- 1923 Edna & Nellie, probably Edna Barnard, daughter of Howard Barnard
wfp00005- August 1944, George and Wonedia(sp) Tichinel and Luther and Bessie Warnick families




Enter images and other content here
wfp00068- John & Jenny Paugh, Luther and Bessie Warnick, Woody Paugh ( John and Jennys boy)
wfp00070- John Warnick and Ary Temperance Kight Warnick
wfp00072- Kelly house near Red House, MD. Enid and Grandkids
wfp00073- Kelly house near Red House, MD. Possibly Vernon and Sharon. Leroy says the car was Dave Paugh's 1939 Chevy.
wfp00074- Kim Paugh (Normas girl, Bessie Warnick Paugh's granddaughter)
wfp00076- Henry Leonard Warnick

wfp00079- Leroy and Genevieve, Roger, Vernon, Sharon Warnick, & Warden & Tessabelle, Linda & Saundra Stahl
wfp00085- Leroy Warnick May 1944
wfp00087- Lillian Warnick and Dale Brown below Mt. Zion
wfp00088- Lillian, Deloris, Wilma, and Delmos Warnick Oakland centennial cake on court house lawn in Oakland 1949
Enter images and other content here
wfp00089- Lucretia Warnick
wfp00090- Luther and Bessie Warnick with baby Lillian, 1936
wfp00093- Luther Warnick and Mary Lou Warnick, Huie's wife
wfp00095- Luther Russell Warnick late 1930s at Ben Mamlin Sawmill in Shaw, WV
wfp00096- Luther Sherman Warnick and significant other, Ruth Warnick between 1952 and 1953
wfp00097- Luther Sherman Warnick
wfp00098- Luther Sherman Warnick
wfp00099- Luther Russell Warnick at Glenn L Martin Airplane Factory in Baltimore. This is the picture that was in the Smithsonian Air and Space Magazine.
wfp00100-Luther Russell Warnick Elementary School Diploma 1933
wfp00105- Mickey Mahl, Delmos, Wilma, and Deloris Warnick 8th Street Oakland about 1949
wfp00107- Mrs. Mary E. Sweitzer and Mr. J. J. Sweitzer (relatives of John and Jenny Paugh)
wfp00110- Orie Paugh, Enid's brother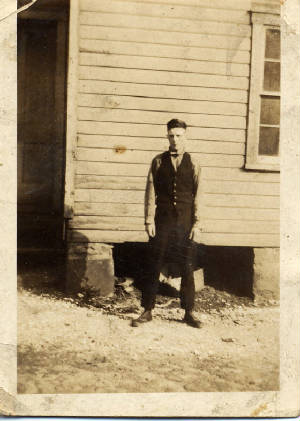 wfp00116- Possibly LillianWarnick
wfp00117- Ray Paugh (Could be Enids brother or John and Jenny's boy)
Enter images and other content here
Susie, Gordon, and Victor
Victor, Leroy, and Luther (Look at the old riding toy Luther is sitting on.)
Vernon, Roger, and Delmos Warnick 1954. Piney is the cow. Each boy is holding a chicken. The house is where Luther's family lived on Boy Scout Road near Deep Creek Lake before moving to the house on Mt. Nebo Road.
Huie Warnick and Chester Boggs
Wilma Boggs, April 1944
This is the front and back of a postcard sent to Bessie Warnick in February 1943. Luther and Bessie's son Delmos Ray Warnick, born 4/12/1944, was named after Delmos Franklin.