Rich Hostutler hoding Alex Hostutler, Hannah Hostutler, Delmos and Diana Warnick, and Jesse Paugh kneeling.
4 generations. Ruby Ashby and Lillian Wertz in back. Brandon and Twila Huerta in front.
Jerry and Amanda Cosner
Everybody busy eating.
Back row- Amanda, Paula, Jesse, Delmos. Second row- Ruby, Carl, April, Lillian, Diana. Front row Twila and Brandon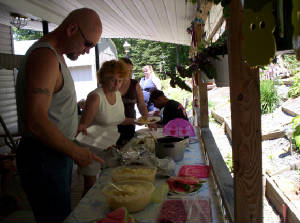 Rich Hostutler & Lillian Wertz back for seconds!